The
release 2.0.3
includes a video tutorial to switch iChat and Photobooth in 32 bit mode and a new uninstaller.
Apple will solved the crashes with a future version (I hope 10.6.2).
Download MoreIchatEffects 2.0.3
The
release 2.0.2
includes a script that switches automaticaly iChat and Photobooth in
32 bits mode
.
When all bugs with SnowLeopard in 64 bits will be fixed, I will publish a new version.
I have added a new folder in
/Applications/Utilities/MoreIchatEffects
with an uninstaller and a link to the website too.
It seems that my tips to swtich automaticaly iChat and Photobooth in 32 bit mode doesn't work in all mac...
If iChat and Photobooth still crash, enable the 32 bit mode manualy. Select the icon of iChat and Photobooth, make a Command+i (or with a right click Get Info).
In the Info window, check the box "Open in 32 bit mode". It works now.
Download MoreIchatEffects 2.0.2
I have a good news for you !
MoreIchatEffects 2.0
is out with
56 additional effects
.
Some effects doesn't work correctly in Photobooth and Photobooth doesn't crash (I think it's a bug with the randoms values).
But all works perfectly with iChat (tested on SnowLeopard, on Leopard (Intel, PPC).
Update 2.0.1: The update solves some crashes on 64 bits machines.
Update if iChat or Photobooth crashes...

You can move files Fire.qtz, Hearts.qtz, Hologram.qtz, Invisible.qtz, iPod.qtz, Ocean.qtz, Reverse.qtz outside of the folder /Library/Compositions.
iChat & Photobooth seems to crash on some Core2Duo (64 bits) computer with SnowLeopard.
With CoreDuo (32 bits) it works..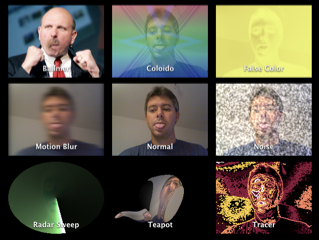 8 new effects