Enable the Panorama Option on iOS 5 without Jailbkreak
08/11/11 11:24 Filed in:
iPhone
With iOS5 it's possible to take panoramic photos. This feature is native but hidden.
To enable it you have to edit the file Library/Preferences/com.apple.mobileslideshow.plist in the mobile account.
It's easy to enable it with a jailbroken iDevice but how to enable it on iPhone4S or iPad2 ?
But it's possible and very easy.
Make a backup of your iPhone with iTunes (right click on your iDevice).
Download and Install iBackupBot (click here).
Launch it… it will analyze your backups.
Select the file com.apple.mobileslideshow.plist and edit it.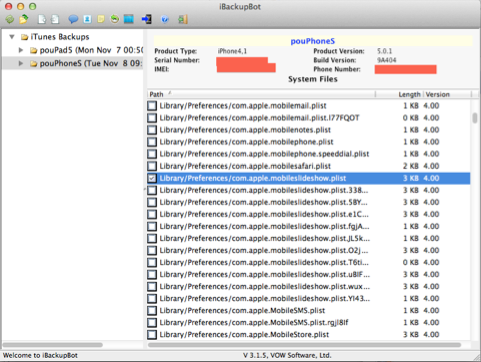 Just after
DiskSpaceWasLow
add the lines :
EnableFirebreak
Save it by clicking on the button save and close it.
Connect your iDevice to your computer
Now restore your modified backup
Launch the Camera app and click on "options". Click on "Panorama" and take your first panoramic photos.